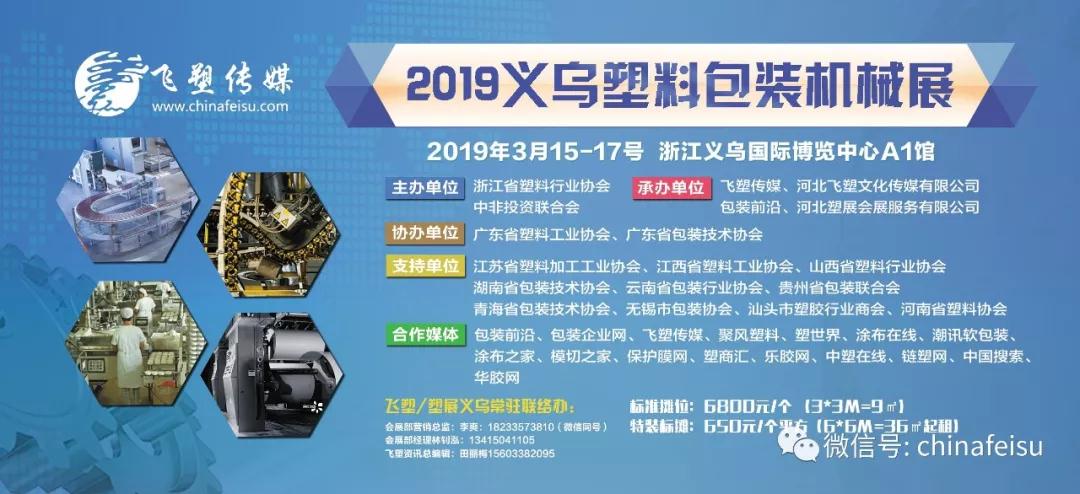 展览:浙江·义乌国际博览中心A1馆
2019中国(义乌)塑料包装机械展项目介绍(中英文版)
2019中国(义乌)塑料包装机械展
2019 China (Yiwu) Plastic Packaging Machinery Exhibition
一、展会名称:2019中国(义乌)塑料包装机械展(软包装.薄膜.涂布. 标签展区)(以下简称义乌塑包展)
Name of Exhibition: China (Yiwu) Plastic Packaging Machinery Exhibition 2019 (Soft Packaging, Film, Coating, Label Exhibition Area) (hereinafter referred to as Yiwu Plastic Packaging Exhibition)
二、展览地址:浙江·义乌国际博览中心A1馆
Exhibition Address: Hall A1 of Zhejiang Yiwu International Expo Center
三、主办单位:Organizers:
浙江省塑料行业协会Zhejiang Plastic Industry Association
中非投资联合会China-Africa Investment Federation
承办单位:Contracting units:
包装前沿Packaging Forefront 飞塑传媒Flying plastic media
河北飞塑文化传媒有限公司Hebei Flying Plastic Culture Media Co., Ltd.
河北塑展会展服务有限公司Hebei Plastic Exhibition Service Co., Ltd.
协办单位:Co-sponsors:
广东省塑料工业协会Guangdong Plastic Industry Association
广东省包装技术协会Guangdong Packaging Technology Association
支持单位:Support units:
浙江省包装技术协会Zhejiang Packaging Technology Association
江苏省塑料加工工业协会Jiangsu Plastic Processing Industry Association
江西省塑料工业协会Jiangxi Plastic Industry Association
山西省塑料行业协会Shanxi Plastic Industry Association
河南省塑料协会Henan Plastics Association
山东省塑料协会Shandong Plastics Association
汕头市塑胶行业商会 Shantou Plastic Industry Chamber of Commerce
云南省包装行业协会Yunnan Packaging Industry Association
湖南省包装技术协会Hunan Packaging Technology Association
贵州省包装联合会Guizhou Packaging Federation
青海省包装技术协会Qinghai Packaging Technology Association
合作媒体:包装前沿、包装企业网、飞塑传媒、聚风塑料、塑世界、涂布在线、潮讯软包装、涂布之家、模切之家、保护膜网、塑商汇、乐胶网、中塑在线、链塑网、中国搜索、华胶网
Packaging Forefront, Packaging Enterprise Network, Flying Plastics Media Network, Jufeng Plastics, Plastic World, Coating Online, Protective Membrane Network, Plastic Merchants Exchange, Lejiao Network, China Plastics Online, Chain Plastics Network, China Search
四、展览日程:Exhibition schedule:
布展日期:2019年3月13-14日Date of exhibition: 13-14 March 2019
展览日期:2019年3月15-17日Exhibition Date: March 15-17, 2019
五、展会规模the scale of the exhibition:预设国际标准展位430个(展览面积:7600平方米)430 international standard booths (exhibition area: 7600 square meters)
展会背景Exhibition background
包装产业是与国计民生密切相关的服务型制造业,在国民经济与社会发展中具有举足轻重的地位。近年来,随着我国国民经济快速发展,带动我国消费市场不断扩大,对包装产品的需求大幅增加,包装业发展迅速,取得了巨大成就。但同时也累积了很多问题,比如产能严重过剩、高消耗与高能耗、区域发展失衡、自主创新能力较弱、核心竞争力不强,等等,这些影响产业可持续发展的突出问题,必须通过转型发展来解决。
Packaging industry is a service-oriented manufacturing industry closely related to national economy and people's livelihood. It plays a decisive role in the development of national economy and society. In recent years, with the rapid development of China's national economy, China's consumer market continues to expand, the demand for packaging products has increased substantially, packaging industry has developed rapidly, and made great achievements. But at the same time, many problems have accumulated, such as serious overcapacity, high consumption and high energy consumption, unbalanced regional development, weak ability of independent innovation, weak core competitiveness, and so on. These outstanding problems affecting the sustainable development of industry must be solved through transformation and development.
义乌是世界超市,商品远销全球,市场氛围及在全球的影响力巨大,包装是所有产品必不可少的重要一环,中国古代历史中就有"买椟还珠"的历史典故!Yiwu is a supermarket in the world. Commodities are sold all over the world. The market atmosphere and influence in the world are huge. Packaging is an indispensable and important part of all products. There is a historical allusion of "buy the silk and return the pearl" in ancient Chinese history.
我们选择在义乌举办包装展会等四展也是看到了义乌得天独厚的市场氛围和国际影响力,立足义乌,放眼全球,举办包装展会,促进全球商品融合!We chose to hold four exhibitions in Yiwu, such as packaging exhibition. We also saw the unique market atmosphere and international influence of Yiwu, based on Yiwu, with a global perspective, holding packaging exhibitions to promote global merchandise integration.
4.参展费用:Exhibition expenses:
(1)VIP黄金展位区收费标准:展位可在VIP黄金展位区域内自由选择:
标准摊位:6800元/个 (3*3m=9㎡)
特装摊位:650元/个平方(6*6m=36㎡起租)
(1) VIP gold booth area fee standard: booth can be freely selected in VIP gold booth area:
Standard booth: 6800 yuan per booth (3*3m = 9)
Special booth: 650 yuan per square meter (6*6m = 36㎡starting rent)
标准配套:三面围板,企业楣板,一张洽谈桌,两把折椅,两支射灯,一个纸篓,一个220V/5A插座(特殊用电须向展馆申请,另行收费)
Standard matching: three-sided fencing board, enterprise lintel board, a negotiation table, two folding chairs, two spotlights, a basket, and a 220V/5A socket (special electricity needs to be applied to the exhibition hall, with additional charges)
5.展位图:Booth maps:
6.赞助方案:
推广项目

形式

费用(元/yuan)

晚宴赞助

Dinner sponsorship

赞助3月15日晚宴,拥有专场推广权利

Dinner sponsored on March 15, with special promotion rights

宴会费用全额承担The full cost of the banquet will be borne

同期会议赞助

Concurrent confere-nce sponsorship

20分钟发言、会刊广告、背板名称、主席台

20-minute speeches, conference advertisements, backboard names, rostrum

30000

会刊广告

Advertisement On The Journal

封面cover

15000

封底Back cover

10000

封二、封三、内一

Seal 2, Seal 3, Seal 1

8000

彩色内页整版

Color Inner Page Full Edition

5000

黑白简介

Black-and-white introduction

1000

资料发放

Data dissemination

展会资料入袋

Packing Exhibition Information

5000

展会基本

用品

Basic Exhibition

Articles

参展证、观展证背面企业LOGO及电话

LOGO and Telephone of Enterprises on the Back of Exhibition Certificate and Visit Certificate

6000

展会手提袋Exhibition Handbags

10000(5000个)

展会门票背面带企业简介及LOGO

Fair Tickets with Enterprise Profile

and LOGO on the Back

10000(20000份)
13.参展注意细则Attention Rules for Exhibitors
(1)详细填写《参展申请表》,负责人签字加盖公章后传真至组委会; Fill in the Exhibition Application Form in detail, and the person in charge sign and stamp it and fax it to the Organizing Committee;
(2)展位安排按"先申请、先付款、先安排"的原则。回传《参展申请表》五个工作日内将参展费用汇至组委会并传真汇款底单,逾期不予保留;Booth arrangement is based on the principle of "first application, first payment and first arrangement". Return the Exhibition Application Form to the Organizing Committee within five working days and fax the remittance bill, which will not be retained after the deadline.
(3)展位确认后中途不得退出参展,否则费用将不予退还;No exit from the exhibition halfway after confirmation of the booth, otherwise the fee will not be refunded;
(4)为了保证展会专业性,参展商不得展出与展会内容无关展品,否则取消参展资格;In order to ensure the professionalism of the exhibition, exhibitors shall not exhibit exhibits that have nothing to do with the contents of the exhibition, otherwise they will be disqualified from participating in the exhibition.
(5)为了保证展出效果组委会有权对整体布置及部分展位进行调配 ; In order to ensure the exhibition effect, the organizing committee has the right to allocate the overall layout and some booths.
(6)参展商不得私自转让展位 ;Exhibitors shall not transfer booths without authorization;
14.主、承办单位联系人及电话:Contacts and telephone numbers of the host and contractor:
本次展会营销方案完全一致,价格完全一致,参展商及观众可按照以下方式联系熟悉的会务组人员,报名参观或者参展: The marketing plan of this exhibition is identical and the price is identical. Exhibitors and spectators can contact familiar members of the Conference team to sign up for visits or exhibitions in the following ways:
2018义乌塑料包装机械展主承办方联系方式:Contact information of the main organizers of Yiwu Plastic Packaging Machinery Exhibition 2018:
飞塑传媒网
会展部:李 爽:18233573810 林钊泓:18630342095
编辑部:张玉坤13273363321 边 丹:13513095714
总编辑:田丽梅:15603382095
地 址Address:中国广东省广州市黄埔大道中144号海景中心西塔1607
1607,16G West Tower, Haijing Center, No 144, Huangpu Road Middle, Guangzhou, Guangdong, China
电 话Tel:020-85626449/020-85626447
网 址Website: www.pack168.com
关于承办单位:飞塑传媒
中文名称:飞塑传媒(河北飞塑文化传媒有限公司)
(塑料包装行业信息服务平台)
地址:中国河北秦皇岛海港区民族南路99号鸿祥大厦1107室
电话:0335-7185009
传真:0335-7185009
公司介绍:
以信息服务为依托,开展包装行业内的会议、会展服务、专业调研、国内外先进技术推广引进、免费撮合贸易等等一系列推广服务!
信息服务目前的主要经营品种分类有:
上游(原油、丙烯、乙烯)塑料网(PP粒料、PP粉料、PE、EVA、茂金属、农膜、管材、PVC(聚氯乙烯)、ABS/PS、EPS、工程塑料、回料;)
薄膜网(BOPP、BOPET、CPP、BOPA、预涂膜、涂布膜、无胶膜等、POF热收缩膜)
胶带网(胶带母卷、丙烯酸、丙烯酸丁酯、胶水等)
化工网(丙烯、正丁醇、辛醇、丙烯酸酯、PTA、PX、聚酯切片、已内酰胺、PA6、PA66、乙二醇、甲苯、二甲苯、醋酸、醋酸丁酯、醋酸乙酯、醋酸乙烯、醋酸正丙酯、丁酮、乙醇、甲醇、MIBK等)
手机短信息、网上信息、手机客户端、微信信息等业务的新媒体。
可以提供商业供应、求购等服务平台,以及广告信息推广服务,网站制作,猎头服务,行业周报、月报、半年报、年报等数据分析业务,欢迎咨询。
公司介绍英文版:Feisu information website (Qinhuangdao Feisu technology development Co., Ltd.)
Packaging industry professional services platform:
which is based on the information service, packaging industry conference, exhibition services, professional research, to promote the introduction of the advanced technology at home and abroad, set trade and so on a series of promotion service for free!
The main types of information services currently classified include:
Upstream (crude oil, propylene and ethylene) plastic mesh (PP granule material, PP powder, PE, EVA, metallocene, agricultural film, pipe, PVC (polyvinyl chloride), ABS/PS, EPS, engineering plastic, material)
Thin film network (BOPP, BOPET, CPP, BOPA, precoating, coating film, non-adhesive film), POF heat shrinkable film.
Tape network (tape, acrylic, acrylic, butyl, glue, etc.)
Chemical network (propylene, n-butyl alcohol, octanol, acrylic ester, PTA and PX, polyester chip, has been lactam, PA6, PA66, ethylene glycol, toluene, xylene, ethyl acetate, butyl acetate, acetic acid, vinyl acetate, normal propyl acetate, butanone, ethanol, methanol, MIBK, etc.)
New media for mobile messaging, online information, mobile phone client, WeChat information, etc.
Can provide business supplies, such as purchasing service platform, promotion and advertising information service, website production, headhunting services, Business Weekly, monthly, half annals, annual reports, such as data analysis service, welcome consulting.
Tech official WeChat ID: chinafeisu
Mobile customer service hotline: 18630342095 (WeChat same) 13241411879 (WeChat)
WeChat number: feisu888
Office phone: 0335-71859-0335-7187238
QQ:414588464 1250318535
E-mail:1250318535@qq.com tianlimei321@126.com
The address: no.1107hongxiang building, no.99, nanlu, qinhuangdao, hebei province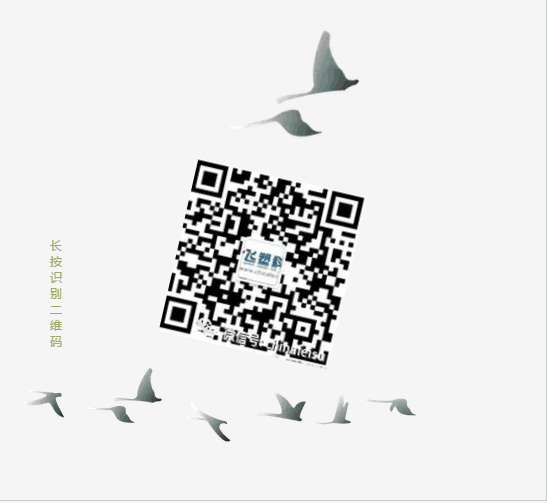 关于飞塑资讯网
公司热线:03357185009
编辑部:13273363321同微信
展会部:18233573810同微信
总编辑:15603382095同微信
公司网站:
www.chinafeisu.com